Hey there guys! Welcome to Daydreaming Discussions. This is a monthly feature created by me where I discuss anything bookish related or sometimes it might be about any non-bookish things as well. Also be prepared for a lot of ramblings and rantings and you're very welcome to be a part of the discussion.
Today I wanted to talk about one of the most dreaded tropes mostly in YA books, i.e. love triangles.
So what's a love triangle?
I know, I know, we all probably know it by heart now but here's a simple definition- when two people have romantic feelings for the same person and that person have feelings for them as well which in turn becomes an utterly incredible mess most of the times.
So next comes the questions, do I love it or not?
I absolutely HATE love triangles, with a capital H. I loath it, I can't stand it at all!
Why?
It's pretty simple, I love to see a relationship build up slowly and steadily between two people. And when there's more than one love interest and the person can't choose the "right" guy, it becomes really irritating for me and it feels like a drag on.
I don't know why but it's becoming a trend among YA authors, mostly in the fantasy/paranormal genre to portray a love triangle in each and every book. It's really becoming a big menace for most of the readers… I think. Plus 99% of the time, it's executed in such a way that we can't help but throw the book away in a rage! Kidding! I definitely don't throw any of my babies away like that but yeah when that happens I feel frustrated enough.
When I realize a book is heading towards a love triangle:
And I'm like DUDE, NEITHER AM I FALLING FOR A PERSON, NOR IS ANYBODY FALLING FOR ME, HOW CAN 10,000000 BOYS FALL FOR YOU?!
I seriously don't like it guys. I feel like it's cheating. Maybe because I don't understand a love triangle because I haven't been in one but seriously, how many of you people have actually been in a love triangle before? Really, how can someone feel romantically for more than one person at a single time? Like, how is it even possible? This goes way over my head.
Plus, whenever there's a love triangle, it makes it hard for me to connect with the that main character because yeah it's not everyday a guy I see in a 10 meter radius falls for me every single time which apparently happens in the book with the MC. And this sort of makes it unrealistic for me. I know it's fiction but there must some kind of thing with which we can form a common ground, right?
Also it feels like that the author is buying time and the plot is moving nowhere expect the main character bouncing from one love interest to the other. And when there's more than two love interest and it goes on forming from to square to a pentagon, omg what a nightmare! I had that reading experience before, poor me, I'm probably scarred for life.
And when you're rooting for person A but person B gets the girl or vice versa, I'm like: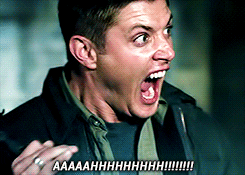 before the sadness and the utter defeat settles in. One way or the other, one character looses and it's really really sad to see that even when I'm not rooting for that guy/person.
Conclusion: Love triangles make me SAAAAAAD and mad! Very much. It feels pointless to me.
BUT.
Here comes that 1% where I usually end up enjoying the love triangle. This case is very very rare but I enjoyed it in A Court of Thorns and Roses by Sarah J. Maas although the love triangle is just starting but seriously I liked both the main male leads- Tamlin and Rhysand. (Although I'm pretty sure I'm gonna tear up all the hair in my head when the actual choosing time comes) I liked Tamlin but when Rhysand stepped in, I was gone. Poof. Done for! Yesssh, I'm so rooting for him!
Anyways, another instance is the True Calling trilogy by Siobhan Davis. It was another love triangle executed really well. It had it's frustrating moments but I kinda enjoyed it.
But really, it's definitely not enjoyable when it's becoming a common instance in every book nowadays, it's seriously getting monotonous for me. I would be forever grateful if the authors really stopped doing this.
Soooo, I hope I didn't hurt anybody's feelings in this post, it's just my personal opinion.
---
So guys, do you LOVE or HATE love triangles? Any particular reason? Do you feel nearly damn frustrated or do you actually enjoy it?
Share your thoughts with me!